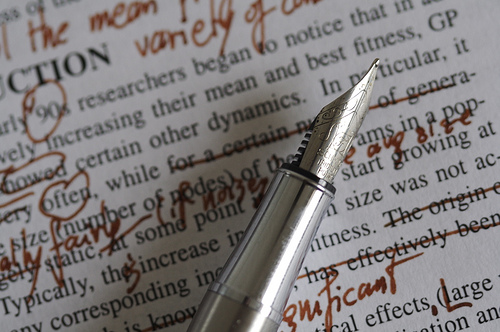 New authors sometimes get confused about the different types of editing that take place during the publishing process. Here is a brief description of the various types of editing your manuscript will undergo in the typical publishing process.
Content Editing
This is what most people think of when they refer to editing. It is when the editor gets out their big, red pen, and scribbles all over your manuscript. They cross out entire pages (or chapters), move paragraphs, and scribble mean (helpful) comments in the margin.
I'm joking about the mean comments. Most editors are quite nice about what they do, and only want the author to have the best manuscript possible. But authors are generally very touchy about content editing, because we think our manuscript is perfect as it is, and the author is gutting the life out of it. But in reality, content editors are an author's best friend. They make our books readable and understandable. Just because it all fits together in the author's head, doesn't mean it makes sense to readers. The content editor revises and moves entire paragraphs or sentences, and adds or deletes content to help the chapters flow logically.
A lot of this is no longer done on paper, but in a program like Microsoft Word with the "Track Changes" feature. It would be wise for you to become acquainted with this feature in your word processor.
Copy Editing
Once the content editor and the author have put together a publishable manuscript, it goes to the copy editor, who checks it for spelling, grammar, and punctuation. Often, a lot of this was caught by the author and the content editor. The copy editor will also check to make sure that the content follows the appropriate style guide or internal style sheet. They will also verify facts and ensure consistency, and might make some minor adjustments to sentence and paragraph structure.
I always recommend that authors, in preparation for copy editing, use a style sheet of their own, just so everything is consistent. Most publishing houses follow The Chicago Manual of Style or something similar. If you want the bare bones basics, I recommend The Little Style Guide. Each publishing house will have their own set of unique rules, but following the rules in these books will get you close.
Typesetting
After the second round of edits (or third, or fourth, or fifth) are finalized, the manuscript goes into typesetting. This is where the the text gets dumped into a publishing program like Adobe InDesign or QuarkXpress to prepare it for publishing. If you have used Styles in your Word Processor, this often helps in the typesetting process. The end result of typesetting is a print-out of what your book will look like after it is published.
Proof Reading
In the Proof Reading process, very few, if any, changes are made. The printer-ready "proofs" (hence the term) are read one last time to check any small errors that might have been missed in the editing process, or that were introduced in typesetting. No substantive changes will be made during the proof reading process. If you find a great quote or a new footnote that you want to include, it is too late. You could maybe include a word or two, but not much beyond that.
Once proof reading is complete, and any small changes are entered, the manuscript goes to the printing press for publication.
Do you have anything to add to these descriptions? Do you have any questions? Let me know in the comments below!